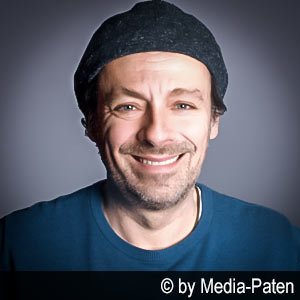 Matthias Deutelmoser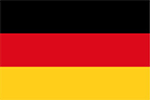 Hörproben:

Synchron


Demo 1

Demo 2
40-50
50-60

mittel seriös markant
Dokumentation Film Industriefilm Multimedia Rundfunk TV Funk & TV Werbung
Matthias Deutelmoser, am 19. Mai 1971 geboren, ist ein deutscher Schauspieler und Synchronsprecher. Am Wiener Max Reinhardt Seminar erlernte Matthias Deutelmoser zwischen 1994 und 1998 die Kunst des Schauspiels. Danach warteten auf ihn Rollen in bekannten Serien wie "SOKO Leipzig", "In aller Freundschaft" und "Polizeiruf 110". In der Verfilmung des Thomas-Mann-Romans "Die Buddenbrooks" verkörperte Thomas Deutelmoser die Rolle des Dr. Giesecke. Als Synchronsprecher leiht er seine Stimme oft Orlando Bloom (zum Beispiel als William Turner in "Fluch der Karibik"). In der Serie "Lost" (2004-2010) sprach Matthias die Rolle von Jeremy Davies. Matthias Deutelmoser ist Hauptsprecher von den Schauspielern Scoot McNairy und Sam Riley. Mehr Infos zu Matthias Deutelmoser gibt's im Blogbeitrag.
Die Synchronstimme von Orlando Bloom
Seit dem Kriegsfilm "Black Hawk Down" (2001) ist Matthias Deutelmoser der deutsche Sprecher von Orlando Bloom. Ungeschönt zeigt der Spielfilm die Schrecken des Nahost-Konflikts. Der britische Schauspieler verkörpert den Soldaten Blackburn, der gemeinsam mit seiner Truppe durch die sandigen Gassen von Mogadischu manövrieren muss, nachdem der titelgebende Helikopter dort abgeschossen wurde. Als Will Turner leiht ihm Matthias Deutelmoser zudem im "Fluch der Karibik"-Franchise die Stimme. Der rechtschaffene Schmied wird unfreiwillig zum Piraten, in dem er sich mit dem legendären Freibeuter Captain Jack Sparrow (gespielt von Johnny Depp) einlässt; Um seine geliebte Elisabeth Swan aus den Fängen des untoten Piraten Barbossa zu retten ist der versierte Fechter zu allem bereit. Auch in den Folgefilmen segelt er an Bord der Black Pearl über die Weltmeere. Da sein Vater Stiefelriemen Bill dazu verdammt ist, auf Ewigkeit unter dem Kommando des skrupellosen Kranken-Kapitän Davy Jones auf der Flying Dutchmanumherzusegeln, ist Will gleich doppelt motiviert es mit dem Schurken aufzunehmen. Dieser trachtet nämlich auch seinem Freund Jack nach dem Leben. In "Pirates of the Caribbean - Salazars Rache" (2017) geriet er zuletzt zwischen die Fronten, als der namensgebende spanische General sich an Wills Freibeuter-Freund für eine vernichtende Niederlage revanchieren möchte. Darüber hinaus sprach Matthias Deutelmoser den Briten in "Love and Other Disasters" (2006), "The Shanghai Job" (2017) und "Tour de Pharmacy" (2017).
synchronisiert auch...
diese Sprecher könnten Sie ebenfalls interessieren:
Filme mit der Stimme von Matthias Deutelmoser
Film
Rolle
Schauspieler

Bezirksstaatsanwalt Gil Colson

Aberforth Dumbledore

Richard Coyle

Karimi

Ardalan Esmaili

Brunner

Dimitri Storoge

Erik

Guillermo Pfening

Will Turner

Will Turner

Will Turner

Nils Debruuk

Kristoffer Joner

Floki

Brian Zeller

Aaron Abrams

Daniel Faraday

Freddie

Nicolas Bro

Andrew Larson

Boris

Corrado Invernizzi

Pater Hastings

Neal Huff

Said

Isa Aouifia

Bayram Karadag

Mehmet Yilmaz Ak

Luis El Comino

Ignacio Mateos

Resort-Manager

Gustaf Hammarsten

Squire Pendleton

Steven Waddington

Homen

Patrick Seitz

Tony

Rufus Jones

Imad Masood

Adeel Akhtar

Brad

Max Gordon Moore

Trainer Berg

David Coussins

Pferdepfleger

Kristofer Hivju

Carny Boss

Tim Blake Nelson

Hans Goslar

Roeland Fernhout

Joseph Veidt

Jonathan Aris

Virologe

Wei-Hua Lan

Nima

Cédric Dumont

Abe

Curtiss Cook

Suguru Getou

Takahiro Sakurai

Torben

Nicolas Bro

Chris Polis

Aaron Abrams

Chris Polis

Aaron Abrams

Merlin

Mathieu Le Goff

Mathieu Demy

Yasuo Odajima

Yoshiyoshi Arakawa

Frank Bledsoe

Vidar

Gísli Örn Garðarsson

Brett

Kyle Bornheimer

Robert

Ramzy Bedia

Almay

Michael Angelo Covino

Daniel

Daniel Grao

Mathias Vinterberg

Thorbjørn Harr

Bart

Michai Geyzen

Jesse Durham

Vince Benvenuto

Kaplan Tappman

Jay Paulson

Daniel Lou

Sung Kang

Captain Chetwode

Stephen Campbell Moore

Michele von Cesena

Corrado Invernizzi

Gad Elmaleh

Gad Elmaleh

Alejandro

Eugenio Derbez

David Bhargava

Hari Dhillon

Stefaan De Munck

Johan Heldenbergh

Masaaki Azumi

Goro Inagaki

Mario Santos

Manolo Solo

Dragqueen

Diego Luna

Wes

Amro Majzoub

Brick

Greg Bryk

Helgi

Þorsteinn Bachmann

Brian Wallace

Aaron Abrams

David Benloulou

Arié Elmaleh

Ray

Kevin Rankin

Greg

Henry Collins

Trystan Gravelle

Gary Ruzak

Shea Whigham

Frank Scott

Jeremy Bobb

Johnny Venere

Sebastian Maniscalco

Ethan

Belsher

Christian George

Walt Breslin

Sea Hawk (Sprache & Gesang)

Jordan Fisher

Ruse

Damon Herriman

Xue Manguan

Yuanzheng Feng

Toni Calvaruso

Paolo Briguglia

Sam

Richie Campbell

Aris (älter)

Petr Stepán

Niko Polastri

Owen McDonnell

Harvey Lewis

Tommy Wiseau

Tomo

Masatoshi Nagase

Professor Legard

Vincent Primault

Vincent

Grégoire Colin

Rob Novak

Will Turner

Rodolfillo

Pedro De Tavira

Måns Wenngren

Niklas Engdahl

Johnny

Stephen Walters

Al

Jason Davis

Ray Jackson

Ben Smith

Det. Tom Iger

Clifton Collins jr.

Sean Cullen

Ray

Diego Luna

Al Hernandez

Eugenio Derbez

Bruno

Nicolás Saavedra

Albert Rocas

Conrad Pla

Enrique Otegui

Diego Martín

Senator Albert Votto

Alex Manette

Will Turner

Juju Peppi

Danny Stratton

Harvey Lewis

Tommy Wiseau

Maximo

Eugenio Derbez

Jacob

Nyrhinen

Janne Hyytiäinen

Vater

Johan Petersson

Gryff

Rob Brydon

Elias

Jakob Ulrik Lohmann

Ed Faber

Scott Takeda

Ivan

Micky McGregor

Elvis

Michael Shannon

Xoan Feijóo

Daniel Grao

Colonel Fitzwilliam Darcy

John Clayton II

Hadley Fraser

Ole

Lars Ranthe

Moe

Gad Elmaleh

Cosini

Jean-René Privat

Danny

Brian Sacca

Caldecott Riddle

Dan Donohue

Todd Ruano

Rafael Petardi

FX

Xavier Alcan

Alain Bordier

Jérôme Commandeur

Louis 'Skinny' Skinner

Biba Amatori

Mamoru Miyano

Jésus

Philippe Rebbot

David

Jonathan Aris

Gabriel

Daniel Grao

Kellner

Laurent Saint-Gérard

Gabriel

Daniel Grao

Ahmed

Hakim Boumsaoudi

Roberval

Irandhir Santos

Buckley

Caleb (jung)

Jason Butler Harner

Pat Frato

Ethan Suplee

Cyril

Patrick Mille

Priester

Johan Heldenbergh

Ben

David Schneider

Dustin Demri-Burns

Johnny Moon

Michael Eklund

George Reinker

Jason Butler Harner

Sheriff Chris Mannix

Walton Goggins

Jim

Walton Goggins

Larry

Zak Orth

Dennis McClaren

Chris Conrad

Haney

Richard Rankin

Norrie Duncan

Richard Rankin

Batu

Baoyingexige

Chokri

Jonathan Cohen

Scooter

Dexter Fletcher

Sentaro

Masatoshi Nagase

Bob Giffen

Kammerdiener

Richard Glover

Frank

Stewart Scott

Dr. Benjamin

Stephen Kunken

CR Leslie

Tom Edden

Amjad

Dylan Edy

Polizist

Christian Rubeck

Darius Jackson

Harold Perrineau

Dave

Kelly Perine

Samson

Father McIntyre

Damon Herriman

Johnny

Mike Lucock

Mario Novacek

François-David Cardonel

Dimitru

Diarmaid Murtagh

Daniels

Gabe Ruskin

Wes Bentley

Ophir

Mahesh Jadu

Kunstsnob #1

Darren Dolynski

Präsident Peng Wu

Fernando Chien

Ron Clark

Ross McCall

Don

Furio Colombo

Francesco Siciliano

Jimmy

Jason Pace

Eli Brown

Tristan Sturrock

Agent Pablo

Juan Pablo Shuk

Rick

Will Mellor

Benoît Sabarie

Brown

Cole Harris

Al Vicente

Marco

Rafael Petardi

Juugo Sakuma

Keitarou Asou

Matthew

Trystan Gravelle

Marquis d'Andijos

Matthieu Boujenah

Ricky

Gavin Rossdale

Earl Rose

Rory Cochrane

Madhav

Subodh Bhave

Henry Methvin

Garrett Kruithof

Friend

Richard Glover

Snake

Edward Akrout

Gabriel Cortez

Eduardo Noriega II

Dr. Brian Wright

Martin Crewes

Arturo Braga

John Ortiz

Billy Hunt

Branwell Donaghey

Craig Bakus

Anthony Lemke

Bürgermeister Niles Pottinger

James Murray

Jirí Palach

Petr Stach

Freddie Thorne

Heikki Hannula

Kai Vaine

David

Will Mellor

Malcolm Dreyfuss

Deserteur

Krisztián Kovács

Hamza

Nasrdin Dchar

Det. John Kennex

Bertrand

Sava Lolov

Luke

Jon Dore

Alfonso

Kieran Bew

Esthers Vater

Loïc Varraut

Tage Baggesen

Rasmus Botoft

Vargas

Conrad Pla

Tiki Pot

Charlie E. Schmidt

Penner

Stephen MacDonald

Miller

Jess Mal Gibbons

Paul

Reid Carolin

Detective Mills

Curtiss Cook

PLO-Kämpfer

Ashraf Barhom

Joe Stafford

Scott Sanders

Elias Toufexis

Christian VII.

Mikkel Boe Følsgaard

Martin

Richard Glover

Geoffrey Burton

Michael Eklund

Piet Meerburg

Tygo Gernandt

Carl

Paul Spera

Agent Pablo

Juan Pablo Shuk

Derek

Amir Arison

Chen Zai Yang

Shaofeng Feng

Alvaro

Nick Gomez

Dr. Tom Reycraft

K.C. Collins

Harry Dewulf

Geert Van Rampelberg

Baptiste Dawes

Frans Boyer

Bertil Strand

Andreas Rothlin-Svensson

Choe Gu-Sung

Yasunori Masutani

Detective Francis Maguire

Kevin Ryan

Stan, der Hund

Stephen Full

Kit Nelson

Michael Eklund

Chris

Mark Valley

Callum Rose

Stephen Walters

Koji Takano

Ryo Kase

Jeremy Rawle

Jeremy Rawle

Captain Homer Jackson

Adam Rothenberg

Val Dodd

Jesse Plemons

Simon

Nicolas Bridet

Jeremy

Mark Kelly

Kryuk

Aleksandr Vakhov

Milque

Todd Haberkorn

verschiedene Charaktere

Jordan Peele

Michele

Valentino Picone

Wild Bill

Charlie Creed-Miles

Teurlings

Stijn Westenend

Bühnenmanager

Ken Barnett

Harlan

Jourdan Lee

Cobb

Tony Munch

Kyle

Ray McKinnon

Crispian

AJ Bowen

MP

Herry Tangri

Ricky als Werbär

Chris Staviski

Fernando Phagabeefy

Joe Lynch

Stig

Nils Jørgen Kaalstad

Tim

Aled Pugh

Jäger #2

Alan Steele

Rod Senseless

Jay Simpson

Ted Hobey

Marty

Todd Weeks

Niles

Niko Lonza

Oggy

Finlay Robertson

Javier

Arnold Cantillo

Sheriff Hutchins

Dane Cook

Kyle Watters

Kevin Phillips

Produzent

Allen Warnock

Alan

Neil Jackson

The Stain

Nix

Clifton Collins jr.

Jacques

Guillaume Gallienne

Monin

Héctor Cabello Reyes

Todd Fleck

Stephen Kunken

Harry Spargo

Neil Jackson

Wilfredo Gomez

Javier Nunez

Deputy Charlie

Seann Gallagher

Dickie Bennett

Hughie Power

Brian Gleeson

Tony

Christian Brandin

Steeve

James Deano

Emri

Robert Vataj

Roy

Stig Frode Henriksen

Farid Baraheri

Merik Tadros

David

Automechaniker

Lars Hjortshøj

Jake Mitchell

Tom Malloy

Scar

Michael-David Aragon

Detective Ray Suarez

Clifton Collins jr.

Sasha Beloff

Neil Jackson

Matthew Keller (2. Stimme)

Ross McCall

Gilbert Nightray

Kosuke Toriumi

Matt Cruniff

Curtiss Cook

Santi

Antonio Naharro

Hassan

Pedro Gutiérrez

Oliver

Joshua Rubin

Arthur Layton

Claude Faustus

Takahiro Sakurai

Leadsänger der Elastocitizens

Steven McCarthy

Lamar Washington

Texas Battle

Corwin Earle

Matthew Maher

Anshuman

Tarun Arora

Milo

Will Turner

Lee Campbell

Alan Van Sprang

Opfer #1

Dorian Kingi

Eddie Beagle

David Ellison

Tony Casemore

Dexter Fletcher

Peter Manning

Josh Hopkins

Cpl/Lt. Nicholas McGrade

Cpl/Lt. Nicholas McGrade

Gunnar

Nicolas Bro

Ambrose Pierce

Orlando Seale

Bettwanze

Greg

Shaun Pye

Krüger

Søren Fauli

Zerbino

Vincent Scarito

Patroclus

Garrett Hedlund

Tiptoes

Steve John Shepherd

Perdiccas

Neil Jackson

Mulle

Nicolas Bro

Hans

Nicolas Bro

Pete

Jonathan Togo

Dillon

Jamie Harrold

Spider Mike

John Leguizamo

Mischa Gordon

Daniele Liotti

Frank

William Ash

Jeff

Simon Rex

Wurfstandbesitzer

David Wike

Peter

Brian Stepanek

Lottery

Dihyendu Bhattacharyya

Cpl. Ramon Aguilar

Clifton Collins jr.

Joe Jones

Richard Coyle

Richard Strout

William Mapother

Janyu 'Tao' Lee (Henrys Vater)

Yoshiyuki Kaneko

Gio / Harry

Michael Leydon Campbell

Wallis

William Mapother

Pvt. Miter

Clifton Collins jr.

Khun Phra Balat

Sean Ghazi

Sam Seaborn

Rob Lowe

Shigure Takimi

Kazuhiko Inoue

Jonas Quinn

Corin Nemec

Chandler Hampton

Jeremy London

Alan (Original: Tony)

Tony Leung Chiu-Wai

Al (jung)

Marc Fousteris