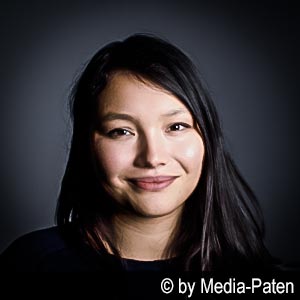 Rubina Nath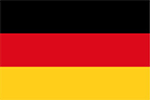 Hörproben:


Lyrik

Besserwisser

Hörspiel

Mix
20-30

mittel rauchig seriös sinnlich warm
Film Hörbuch / Hörspiel TV Games
Rubina Nath wurde am 17. Oktober 1987 in Berlin geboren. Durch ihre Mutter, die Aufnahmeleiterin bei einer Anime-Synchronfirma war, konnte sie schnell erste Erfahrungen vor dem Mikro sammeln. Als Synchronsprecherin leiht sie Dakota Johnson ihre Stimme (z. B. in Fifty Shades of Grey). Im Oscar-prämierten Drama "12 Years a Slave" sprach sie die Rolle der Patsy. Auch in Videospielen ist sie zu hören: so lieh sie in den Batman-Videospielen der Arkham-Reihe Harley Quinn ihre Stimme, in Blizzards Ego-Shooter Overwatch sprach sie die Figur Mei. Rubina Nath ist mit dem Synchronsprecher Tobias Nath verheiratet und lebt in Berlin. Mehr Infos zu Rubina Nath gibt es in unserem Blogbeitrag.
Sprecherin von Dakota Johnson
Als Synchronstimme von Dakota Johnson kennt man Rubina Nath vor allem aus der "Fifty Shades of Grey"-Trilogie (ab 2015). In dem Erotik-Drama leiht sie der US-amerikanischen Schauspielerin die Stimme als Protagonistin Ana Steele. Für ein Interview der Universitätszeitung lernt die Studentin den reichen Unternehmer Christian Grey (gespielt von Jamie Dornan) kennen. Die beiden kommen sich näher und Ana erfährt vom Sadomaso-Fetisch des Milliardärs. Als Grey ihr dann auch noch Peitschenhiebe versetzt ist die junge Literaturstudentin entrüstet. In der Fortsetzung gibt ihm Ana, die inzwischen Lektorin geworden ist, eine zweite Chance. Als sie zwei von Greys ehemaligen Liebhaberinnen kennenlernt, bemerkt Ana, dass sie nicht die erste ist, die versucht den traumatisierten Unternehmer zu ändern.
In der Tragikomödie "The Peanut Butter Falcon" (2019) reist Dakota Johnson als Betreuerin Eleanor mit ihrem Schützling Zak und dem Fischer Tyler auf einem selbstgebauten Floß. Da der 22-Jährige Zak am Gendefekt Trisomie 21 leidet, soll Eleanor ihn wieder zurück ins Altersheim bringen. Doch sie entscheidet sich dafür, dem jungen Mann bei der Erfüllung seines Traums zu helfen. Gemeinsam mit dem flüchtigen Fischer Tyler (verkörpert druch Shia LaBeouf) spüren sie Zaks Idol auf; den Wrestler "Salt Water Redneck". Zudem synchronisiert Rubina Nath die Darstellerin als Protagonistin des Horror Thrillers "Suspiria" (2018). Als neuster Zugang im Ensemble von Madame Blanc (verkörpert von Tilda Swinton) macht die junge Tänzerin enorme Fortschritte. Eine der Ballerinas verschwindet auf mysteriöse Weise und die Tanzlehrerin entpuppt sich als Hexenmeisterin. Darüber hinaus hört man Rubina Nath als Stimme von Dakota Johnson u.a. im Thriller "Black Mass" (2015) sowie im Psycho-Horrorfilm "Wounds" (2019) und dem romantischen Musical "The High Note" (2020).
synchronisiert auch...
diese Sprecher könnten Sie ebenfalls interessieren:
Filme mit der Stimme von Rubina Nath
2017: Fifty Shades of Grey: Gefährliche Liebe – Synchronstimme Dakota Johnson: Rubina Nath
2016: How to Be Single – Synchronstimme Dakota Johnson: Rubina Nath
2015: Fifty Shades of Grey – Synchronstimme Dakota Johnson: Rubina Nath
Film
Rolle
Schauspieler

Sofina

Daisy Head

Tat Han

Leanna Chea

Peni Parker / SP//dr

Kimiko Glenn

Nebula

Mitsu Uchida

Mie Sonozaki

Wheeler

Fiona Dourif

Dr. Helen Cho

Claudia Kim

Nebula

Prinzessin Aslaug

Alyssa Sutherland

Alyssa Lang

Lindsey Kraft

Paige McCullers

Lindsey Shaw

Helen / Cassandra 'Andi' Brand

Khadijah Adiyeme

Lupita Nyong'o

Carol Cobb

Gemma Zhao

Jasmine Chiu

Ana

Natalia Verbeke

DDA Sarah Shepard

Meera Rohit Kumbhani

Elises Mutter

Muriel Zusperreguy

Lt. Natasha 'Phoenix' Trace

Monica Barbaro

Nebula

Sarah

Anne Elliot

Chambers

Samantha Win

Emine 'Mine'

Hazal Türesan

Nala

Ayaan Ahmed

Maia Simmons

Eiza González

Sara

FBI Detective Sarah Meeker

Lex Scott Davis

Alia

Adriana Ugarte

Detektivin

Kristen Harris

F

Karen Fukuhara

Kang Su-yeon

Joo-Hee Baek

Valentina (Sprache)

Nicole Byer

Brianna Collier

Indya Moore

Rarity

Tabitha St. Germain

Hannah Bailey

Lois Chimimba

Karen Greer

Jodie Turner-Smith

Sam

Rhonda

Paloma Garcia-Lee

Pferd

Kimiko Glenn

Nina

Patricia Trehearne

Charlotte Hamblin

KT

Eiza González

Emily Kass

Harriet Dyer

Madison

Schwester Beatrice

Kristina Tonteri-Young

Mercedes

Kelly Nessib

Manon Azem

Beth Healy

Hettienne Park

Jolene McCall

Fala Chen

Satin

Aino Jawo

Grace

Jennifer Ikeda

Suzanne

Sarah Snook

Peggy Drood

Indya Moore

Fran

Eiza González

junge Frau

Jessie Buckley

Maggie Sherwoode

Emily

Jessica Henwick

Sandy Henderson

Leann

Meera Rohit Kumbhani

Veronica

Yuuna

Yûho Yamashita

Martha

Isis Davis

Postschalterin

Miss Ming

Sarah O'Neill

Seána Kerslake

Josephina

Zawe Ashton

Adelaide Wilson / Red

Lupita Nyong'o

Liza Minnelli

Gemma-Leah Devereux

Anna

Sasha Luss

Skye Layton

Rahne Jones

Mayme Johnson

Ilfenesh Hadera

Mary Cratchit

Vinette Robinson

Ray (jung)

Mariya Ise

Mi-Yung

Niccy Lin

Lady Trieu

Hong Chau

Carrie

Mandy (Sprache)

Prof. Kathy Torrence

Jennifer Spence

Eleanor

Kailah

Dalara Williams

Claire Phee

Emma Booth

Siduri

Yumi Uchiyama

Nicole Teague

Jenna Cameron

Riley Voelkel

Anastasia Steele

Mako Mori

Rinko Kikuchi

Ashley Collins

Jerrika Hinton

Sara Ganim

Misty

Tanya (jung)

Jessica Keenan Wynn

Clarisse McClellan

Sofia Boutella

Susie Bannion

Nya

Lex Scott Davis

Brenda

Alice Bailey Johnson

Ariel

Eden Epstein

Lisbeth Salander

Peni Parker

Kimiko Glenn

Melissa Henry

Zandy Hartig

Angel

Indya Moore

Brenda

Eve Harlow

Asha Trace

Melanie Vallejo

Hannah

Christie Laing

Analyst Kristen Chazal

Ebonee Noel

Tracey

Sandrine Holt

Dara

Frankie Shaw

Mutter

Amanda Crew

Emma

Adriana Ugarte

Dominque 'Dom' Morris

La La Anthony

Anastasia Steele

Nebula

Prinzessin Ahmanet

Sofia Boutella

Alyse Craig

Lex Scott Davis

Darling

Eiza González

Abigail 'Abby' Parker

Margarita Levieva

Arra Champignon

Claudia Kim

Satin

Aino Jawo

Catty Purry

Madison Pettis

Tehura

Tuhei Adams

Camille Claudel

Izïa Higelin

Ruby Roundhouse

Rarity (Sprache)

Tabitha St. Germain

Becky

Karissa Lee Staples

Marianne

Jae Suh Park

Charmaine Hatcher

Alison Louder

Kanya

Pamelyn Chee

Nikki

Amanda Crew

Louise

Julia Faure

Charlotte Wells

Jessica Brown Findlay

Nat

Mutsumi Tamura

Kit 'Kick' Lannigan

Leven Rambin

Grace

Alexandra Dinu

Silver Dart Shi

Juju Chan

Lucinda Price

Addison Timlin

Meredith

Julianne Hough

Ariana Grande

Alice

Satin

Aino Jawo

Charlotte

Sky Ferreira

Teresa

Sakura

Yûho Yamashita

Lin Mei

Tian Jing

Jaylah

Sofia Boutella

Rarity (Sprache)

Tabitha St. Germain

Destiny

Alizeh

Anushka Sharma

Jamie

Lily Gladstone

Bella Brown

Jessica Brown Findlay

Rechtsanwältin

Maisa Abd Elhadi

Nakku Harriet

Lupita Nyong'o

Krystal

Monica

Nana Komatsu

Keiko Kuromura

Minori Omi

Pevita

Susan Park

Tea Gardner

Maki Saitou

Lady Alex Spencer-Parker

Ophelia Lovibond

Jaylah

Sofia Boutella

Vanessa

Kat Foster

Issa Dee

Issa Rae

Nina Meyer

Margot Bingham

Anastasia Steele

Xin Qing

Mika Wang

Kikki Jones

Amanda Crew

Pizzazz

Ke$ha

Lindsey Cyr

Jennie Newsom

Minka Kelly

Rarity (Gesang)

Kazumi Evans

Rarity (Sprache)

Tabitha St. Germain

Eva Mantovani

Elisa Sednaoui

Penelope Lanier

Miko Otomo

Kiki Sukezane

Lucy Church

Christina Vidal

Numi

Hana Mae Lee

Anika Gibbons

Grace Gealey

Reign / Samantha Arias

Shiki Magata

Ibuki Kido

Naomi

Frankie Shaw

Dr. Helen Cho

Claudia Kim

Natalie Elfassia

Magi Azarzar

Samaara

Keke Palmer

Gwen Lloyd

Lupita Nyong'o

Beverly Penn

Jessica Brown Findlay

Imogen

Jaggu

Anushka Sharma

Harley Quinn / Harleen Quinzel

Hynden Walch

Rachel

Jessica Brown Findlay

Nebula

Rarity (Gesang)

Kazumi Evans

Rarity (Sprache)

Tabitha St. Germain

Aimee

Gaby Hoffmann

Addy

Anastasia Baranova

Patsey

Lupita Nyong'o

Braut

Laya Martí

Krankenschwester Gemma

Mako Mori

Rinko Kikuchi

Rachel Robinson

Nicole Beharie

Hayley

Emily Browning

Pepper Potts

Kate Higgins

Bonnie Parker

Holliday Grainger

Yukari Yukino

Kana Hanazawa

Rarity

Tabitha St. Germain

Rarity (Gesang)

Kazumi Evans

Yukio

Rila Fukushima

Arabela Seeger

Lara Rossi

Aida / Madame Hydra / Agnes Kitsworth

Mallory Jansen

Angelique Alassane

Wunmi Mosaku

Diana Thomas

Janina Gavankar

Beatrice

Alma Jodorowsky

Kim 'Kimmy' Moriarity

Leven Rambin

Rebecca Madsen

Sarah Jones

Amanda Morgan

Kerrie Hayes

Amy Warwick

Monika Tilling

Gina

Ami Koshimizu

Isla

Shannon Chan-Kent

Dana

Sasha Jackson

Leticia

Nicole Beharie

Mary Rivers

Tamzin Merchant

Anne

Elisa Sednaoui

Midori

Kiko Mizuhara

Sara Matthews

Minka Kelly

Pep

Chormitglied

Onira Tares

Norah

Sara Maxwell

Danneel Ackles

Aisling

Laura Greenwood

Chunhua Lao

Irene Keng

Becca

Jessika Van

Hannah Price

Kiana Madeira

Terri Garza

Camille Guaty

Kommentatorin Jenny

Lissa Neptuno

France Gall

Sara Forestier

Nicky Henry

Laura Wheelwright

Daphne

Kate Melton

Nina

Mahaley Manning

Ink

Mayu Iino

Fiona

Perdita Weeks

Naomi

Christie Laing

Susie

Amber Kuo

Laura

Emily Spires

Sarah

Emily Tennant

Anna

Paula van Oppen

Piper Katins

Jolene Purdy

Jaden

Tiffany Hines

Lady Sybil Crawley

Jessica Brown Findlay

Ashley Briggs

Anna Camp

Courtney

Brenna O'Brien

Dr. Serena Warren

Elisabeth Harnois

Rarity

Tabitha St. Germain

Rarity (Gesang)

Kazumi Evans

Ellie

Setsuko Koike

Shihori Kanjiya

Meredith

Ellen Wroe

Jennifer Hardick

Shenae Grimes-Beech

Annabelle Woods

Camilla Rosso

Kimberley

Hilary Carroll

Anna

Cammy Alcott

Lauren London

Daphne

Kate Melton

Bailey Pickett

Debby Ryan

Aya Kawasaki

Ai Nonaka

Samantha MacIntosh

Joanna Douglas

Dr. Carrie Roman

Süßes Mädchen #1

Natalia Ortellia

Midori Mitsuya

Chiaki Kuriyama

Erika Sakaki

Nora

Massie Block

Elizabeth McLaughlin

Kathy

Tatiana Maslany

Yoko Hashiba

Takako Matsu

Josie

Linzey Cocker

Kat

Heather Hogan

Ashley

Julia Chantrey

Bailey Pickett (1. Stimme)

Debby Ryan

Ran-Mao

Sayuri Yahagi

Inga

Daniella Monet

Iris Gonzalez

Houko Kuwashima

Carly Shay

Miranda Cosgrove

Alex McHugh

Mekenna Melvin

Littlefoot

Cody Arens

Mokona Modoki

Mika Kikuchi

Yuzuriha

Aya Endou

Irmak Sertkaya

Fatma Genç

Irmak Sertkaya

Fatma Genç

Emiri Kusama

Meisa Kuroki

Emiri Kimidori

Yuri Shiratori

Katie

Brenna O'Brien

Milit

Evgeniya Sviridova

Ringo Noyamano

Mariya Ise

Mokona

Mika Kikuchi

Yuzuriha

Chiemi Chiba

Izumi Sawatari

Masumi Asano

Cassie Bacha

Janaya Stephens

Mikan Kurenai

Yuki Matsuoka

Adelaide Jefferson

Tara Fitzgerald

Baseball-Junge

Motoko Kumai

Nana

Yuki Matsuoka

Melina Bianco

Carly Schroeder

Tomika

Maryam Hassan

Tayla

Rachel Watson

Azmaria Hendric

Saeko Chiba

Angelica

Hitomi Terakado

Cagalli Yula Athha

Naomi Shindou

Tea Gardner

Maki Saitou

Kino (jung)

Ai Maeda

Molly O! (Gesang)

Kay Hanley

Molly O! (Sprache)

Chantal Strand

Sara Mudô

Ayako Kawasumi

Annie

Alicia Morton

Oberst MacDougall

Ryuji Aigase

Yuzuriha Nekoi

Yukana Nogami