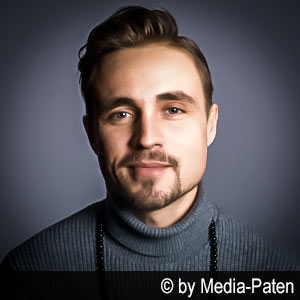 Constantin von Jascheroff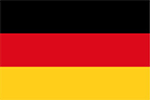 Hörproben:


Lyrik

Besserwisser

Hörspiel

Mix
20-30

jung voll markant klar
Dokumentation Film Hörbuch / Hörspiel Industriefilm Rundfunk TV Funk & TV Werbung
Constantin von Jascheroff wurde 1986 in Berlin geboren. Er ist als Schauspieler in dritter Generation und auch als Sänger, Dialogregisseur und Synchronsprecher tätig. Jascheroff war in "Star Wars: Episode I - Die dunkle Bedrohung" als deutsche Stimme von Jake Lloyd (als Anakin Skywalker) und in den PS2 -Spielen "Kingdom Hearts" als Sora zu hören. Auch dem verstorbenen Schauspieler Anton Yelchin (als Pavel Chekov) in "Star Trek" hat er seine Stimme geliehen. Constantins Großvater war Hasso Zorn, sein Vater Mario von Jascheroff, die Mutter Juana-Maria von Jascheroff, der Bruder Felix von Jascheroff ist ebenfalls Synchronsprecher und spielte lange Zeit in GZSZ. Mehr Infos gibt's in unserem Blogbeitrag über Constantin von Jascheroff.
Synchronstimme von Taron Egerton
Constantin von Jascheroff ist der deutsche Sprecher von Taron Egerton. Beginnend mit der Actionkomödie "Kingsman: The Secret Service" (2014) vertonte er den britischen Schauspieler als Gary Unwin. Gary, Spitzname "Eggsy" wird von Altspion Galahad (gespielt von Colin Firth) zum Gentlemen-Agenten ausgebildet. Nachdem sie Samuel L. Jackson als Schurke Valentine besiegen konnten, nehmen es Eggsy und Galahad in der Fortsetzung "Kingsman: The Golden Circle" (2017) mit Drogenbaronin Poppy (Julianne Moore) auf. In der Komödie "Eddie the Eagle: Alles ist möglich" (2016) vertont Constantin von Jascheroff den Briten als den namensgebenden Skispringer. Unter den Fittichen von Coach Bronson Peary (portraitiert von Hugh Jackman) trainiert der Amateur für die olympischen Spiele in Calgary. Als einer der wenigen englischen Skiathlethen springt er sich dort in die Herzen der Zuschauer. Im Abenteuerfilm "Robin Hood" (2018) spricht er Taron Egerton in der namensgebenden Rolle des barmherzigen Rächers. Als der adelige Bogenschütze Robin von Loxley vom Krieg zurückkehrt, findet er seine Ländereien durch den Sheriff von Nottingham (Ben Mendelsohn) gebeutelt. Mit seinen getreuen Gefolgsleuten Little John (Jamie Foxx) und Bruder Tuck (Comedian Tim Minchin) setzt er sich zur Wehr.
synchronisiert auch...
Filme mit der Stimme von Constantin von Jascheroff
Film
Rolle
Schauspieler

Ian

Lucas Englander

Detective Newheart

Grayson Berry

Kampfdroiden

Matthew Wood

Hassan

Louie Nelson Indriana

Manjirou Sano

Yuu Hayashi

Anakin Skywalker

Jake Lloyd

Aaron Davis

Pietro Maximoff / Quicksilver

Steve Murphy

Boyd Holbrook

Jay Sebring

Eldridge MacElroy

Graham Patrick Martin

Angeklagter #1

Grant Barker

Freddy Nunes

Micael

Salim

Alexander Abdallah

Cho Suk-bong (2. Stimme)

Hyun-chul Cho

Tuppen

Joshua Eady

Justin

Will McDonald

Brian

Stephen Peck

Oleg

Sergey Dvoynikov

Cre

Kayne Lee Harrison

Paul

Walter

Edouard Philipponnat

Riff

Mike Faist

Nick Vogel

Hopper Penn

Giovanni 'Gio'

Shiloh Fernandez

Giovanni 'Gio' (jung)

David Mazouz

Oscar

Ricky Velez

Jack

Itzan Escamilla

Timebomb

Ben Hoffman

Jeremy Camp

Tuppen

Joshua Eady

Bobby

Andrew Bachelor

Barbabo

Marie Facundo

Walter Quaid

Taylor John Smith

Merrick

Harry Melling

Mohammed Hama

Waj Ali

Franek

Michal Piprowski

Nico

Kenny Dawes

Will Ropp

David

Elliott Crosset Hove

Tony

Karan Soni

Brody

JT Neal

Poe

Moises Arias

Brody

JT Neal

Keith / Becky / Gavin / Jana / Quentin / Joyce

Chris Lilley

Michelangelo

Kyle Mooney

Shaun Emery

Callum Turner

Bubbles

Mike Smith

Gyllen

Fionn Whitehead

Chris

Wolfgang Novogratz

Carney

Brandon Lessard

Jack

Iain McKee

Alin

Basil Eidenbenz

Yoon Tae-oh

Ji Soo

Harry (jung)

Hugh Skinner

Miles Whittaker

Ashton Sanders

Ichigo Kurosaki

Souta Fukushi

Juju

Kaalan Walker

Dane

Max Baldry

Tibbet

Robin von Loxley

Tuppen

Joshua Eady

Ronnie

Sam Lerner

Scott

Tyler Conti

Dean Karny

Martin Johnsen

Jonas Hoff Oftebro

Major Valerian

Merkel

Billy Offal

Casey Johnson

Johnny

Kenneth Fok

Kadafi

Ernest James Hatter III

Tim

Miguel McPherson

Jordan Rodrigues

Gary 'Eggsy' Unwin

Tim

Samuel

Doug Haley

JB

Caleb Landry Jones

Archie Andrews

Tooru Iwashimizu

Koutarou Nishiyama

Hamza

Hamza Meziani

Brian

Eddie Edwards

Limus Huffington

Doug Haley

Pavel Chekov

Alex

Dylan Minnette

Roman Atwood

Roman Atwood

Michelangelo

Noel Fisher

Peter Newmans

Johnny Simmons

Tripp

Lucas Till

Alan Brockman

Jim Lake jr.

Henry Williams

Ian Bonar

R0-GR/ 'Roger'

Matthew Wood

Danny Miller

Avan Jogia

Michelangelo

Noel Fisher

Damon

Barton Cowperthwaite

Bakura

Rika Matsumoto

Jude

DeShaun Clarke

Steve Winchell

Patrick Gibson

Pavel Chekov

Lane

David Henrie

Marzin / Beckwith

Joe Cole

Mad Teddy Smith

Anthony

Anthony Padilla

Zach

Dylan Minnette

James Dean

Fellhändler

Nash Edgerton

Christopher Archer

Gary

P.J. Boudousqué

Tourist

Logan Rogan

Schnozzle Whitehead

Lev Pakman

Jared

Jared Sandler

Finnegan

Freddie Fox

Hakeem Lyon

Bryshere Y. Gray

Charles, Prinz von Wales

Constantin von Jascheroff

Ezzie

James Young

Jacob Heckum

Vincent Rattrey

Luke Treadaway

Nathaniel Kurtzberg

Michael Sinterniklaas

Jude

DeShaun Clarke

Pietro Maximoff / Quicksilver

Jody

Jody Cecchetto

Connor

Robert Lonsdale

Gary 'Eggsy' Unwin

Brandon

Shane Harper

Brad McBride

Justin Ray

Dexter

Emory Cohen

Edward Brittain

Cloten

Rick

Riz Ahmed

Jay Cartwright

Adam Sewell

Will Peltz

Mack

Craig Gurwitch

Samuel C. Hunt

Perry Whitley

Erik Stocklin

Andreas Verås

Alexander T. Rosseland

Todd Chavez

Artan

Dan Black

Max

Ilya

Caleb Landry Jones

Jonah Takalua

Chris Lilley

Spoonie

Luis Da Silva jr.

Craig

Jeffrey Ballard

Pavel Chekov

Ronnie

Paul Brannigan

Reece

Jonathan Decker

Larkin Ravenwood

Kyle Gallner

Kevin Winslow

Darien Willardson

Rusty Waters

Scott Porter

Luc

Aaron Mitchell

John Patrick Amedori

Max

Allen Leech

Jack

Mathias Malzieu

Jugendlicher

Lucas Mann

Daniel

Ryan McCartan

Schiedsrichter

Rob Paulsen

Andy Cogan

Matt Bush

Leslie Brewer

Joey Kern

Yukiteru Amano

Misuzu Togashi

Justin

Ja'mie

Chris Lilley

Michael Chin

Philip Nozuka

Maverick

Aleksey Frandetti

Tommy (jung)

Adam DiMarco

Devin Overstreet

Wiz Khalifa

Billiam Willingham

Johnny Simmons

Robbie

Paul Brannigan

Shun

Miyu Irino

Dean McMullen

AJ

Emory Cohen

Reporter

Jay Taylor

Barry

Matt Bush

Url Dotcom

Fabien Limousin

Terry

Rasmus Hardiker

Aaron Fotheringham

Aaron Fotheringham

Duke

Rupert Degas

Scott Warner

Alex Weiner

Shun

Miyu Irino

Cpl. Lee Imlay

Will Rothhaar

Kyle Timmons

Alex Shaffer

Lance Loud

Jay Cartwright

Ricky

Beau Casper Smart

Kern

Cody Johns

Jacob

Plugger

Diarmuid Noyes

David Savion

Ryan Donowho

Kei Kurono

Kazunari Ninomiya

Charley Brewster

Porter Black

Antonello

Jesse Bostick

Kyle Stansbury

Tyler Ross

Lapo Valadine

Swann Arlaud

Paul

Yukiteru Amano

Misuzu Togashi

verschiedene Charaktere

Chris Lilley

Mick Donnelly

Ryan Sheckler

Tiger

Marko Janketic

Wallace Wells

Clarke

Jeremy Dozier

Erdmännchen

Elisabeth Williams

Arturo

Alexander Flores

Alex

Carter Jenkins

Charlie

Kent Jude Bernard

Kei Kurono

Kazunari Ninomiya

Goran

Steven Grayhm

Tom Branson

Allen Leech

Finn

Jeremy Shada

Finn

Jeremy Shada

Zaid

Raj Bhansali

Johnnie Pappas

Liam Aiken

Christopher Lopez

Bobby Campo

Lefty

Erik Knudsen

Waylon

Benjamin Beauchemin

Pavel Chekov

T-Rex

Ashley Jones

Richie

Ben Feldman

Alex Breslin

Lou Taylor Pucci

Jeremy

Brando Eaton

Matt Campbell

Kyle Gallner

Doowee McAdam

Alexandre Nguyen

Finn Samson

Nathan McMullen

Jonathan Boulden

Jonathan Boulden

Teenager

Chris Milan

Shorty Shriver

Alex Frost

Jacob

Jacob Lyon

Satoru

Shun Shioya

Dwight White

Rasmus Hardiker

Chomper

Max Burkholder

Ronnie Garrett

Jonathan Murphy

Armando Lopez

Jesse Garcia

Mitsuru Ashikawa

Eiji Wentz

Agito Wanijima

Kokoro Kikuchi

Bruder von Jungen mit Kopfhörer

Kyle Gallner

Adam Caputo

P.J. Boudousqué

Yoshitaka Nakabayashi

Junko Minagawa

Ryan

JD Pardo

Christian Siriano

Christian Siriano

BJ Bongaro

Kyle Gallner

David 'Gordo' Gordon

Adam Lamberg

Charles

Jay Ryan

Alan / Squid

Jake M. Smith

Tayler 'Ted' Mark Beene

Andrew Lawrence

Raimundo Pedrosa

Tom Kenny

Vassya

Vojtech Rohlícek

Hector Cruz

Justin Cowden

Bakura

You Inoue

Bakura (Ryou)

Rika Matsumoto

Bart Allen/Impulse

Kyle Gallner

Willie Morris

Frankie Muniz

Dennis Petersen

Stefan Pagels Andersen

Rudolph Sackville-Bagg

Rollo Weeks

Flip

Justin Berfield

Dixon

Emmanuel Johnson

Oscar

Jesse Farb

Witz

Carl Michael Lindner

Fang Shih Yu

Hsiao Hou

Ponyboy Curtis

C. Thomas Howell