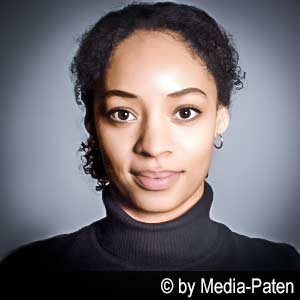 Giovanna Winterfeldt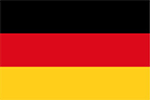 Hörproben:


Lyrik

Besserwisser

Hörspiel

Mix

Demo 1
20-30

mittel sinnlich voll warm markant klar kräftig
Dokumentation Film Hörbuch / Hörspiel Multimedia Rundfunk TV Funk & TV Werbung Games
Giovanna Winterfeldt wurde 1991 als Tochter der Schauspielerin und Synchronsprecherin Sabine Winterfeldt geboren und begann daher schon früh mit ersten Sprechertätigkeiten (darunter die Serien "Neds ultimativer Schulwahnsinn", "The Secret Life of the American Teenager" und "Dexter"). Daraufhin vertonte sie die von Laura Harrier gespielte Forensikerin Kasie Hines in der 15. Staffel von "Navy CIS". Für "Transformers 4 – Ära des Untergangs" (2004) synchronisierte Giovanna Winterfeldt die Schauspielerin Nicola Peltz als Tochter von Mark Wahlberg. Man kennt Giovanna Winterfelds Stimme auch aus den 2018 erschienen Filmen "BlacKkKlansman", "Solo: A Star Wars Story" und "Monique". Des Weiteren leiht sie Khadijha Red als Steph Jones in "After Passion" (2019) und "After Truth" (2020) die Stimme. Im Anime "Samurai Girls" spricht sie die verwöhnte Sen Tokugawa. Für die Videospiele "FIFA 18" und "Need for Speed – Payback" sprach sie Voice Over ein.
Über ihre Sprechertätigkeit hinaus singt Giovanna Winterfeldt als Solo- und Backgroundvocalist. Sie verfasst sowohl Songtexte als auch Drehbücher. Mehr Infos zu Giovanna Winterfeldt gibt es in unserem Blogbeitrag.
Stimme von Moses Ingram in "Das Damengambit"
In der 2020 erschienenen Netflix-Serie über die Schachspielerin Beth Harmon spielt die Newcomerin Moses Ingram die freche Jolene. Giovanna Winterfeldt spricht das afro-amerikanische Mädchen, dass die Protagonisten Beth im Waisenhaus kennenlernt. Die ältere Jolene wird schnell zur großen Schwester des Schachwunderkinds und steht der Medikamentenabhängigen Spielerin auch im späteren Leben zur Seite. Mit ihrer spannenden Inszenierung wurde die sehenswerte Mini-Serie schnell zum internationalen Erfolg.
Deutsche Synchronsprecherin von Erin Kellyman
Im "Star Wars"-Spinoff "Solo: A Star Wars Story" spricht Giovanna Winterfeldt die Schauspielerin Erin Kellyman. Die Britin mit den Sommersprossen und den dichten roten Locken spielt die Weltraumpiratin und Bandenanführerin Enfys Nest. Nest tritt im Film zunächst nur maskiert in Erscheinung, doch ihre Wahrnehmung wandelt sich im Laufe der Geschichte vom verfeindeten Piraten zur verbündeten Freiheitskämpferin. Mit ihrer Gang kämpft Enfys Nest schließlich zusammen mit Han Solo und seiner Crew gegen das Verbrechersyndikat Crimson Dawn.
synchronisiert auch...
diese Sprecher könnten Sie ebenfalls interessieren:
Filme mit der Stimme von Giovanna Winterfeldt
Film
Rolle
Schauspieler

Andrea 'Andi' Agosti

Lizeth Selene

Louisa Guy

Rosalind Eleazar

Marly

Joy Delima

Amy Sharp

Darla Gurney

Hannan Younis

Tessa Yaeger

Nicola Peltz

Enfys Nest

Astor

Christina Robinson

Emerald 'Em' Haywood

Keke Palmer

Christine 'Chrissy'

Meagan Holder

Christine 'Chrissy'

Meagan Holder

Atom Eve

Gillian Jacobs

Stella

Hannah van der Westhuysen

Barbara

Sofia Migliara

Karli Morgenthau

Sasha Dixon

Kyla-Drew

Becky

Trina LaFargue

Stat

Patti Harrison

Rhonda Kazembe

MaameYaa Boafo

Capri

Jordan Tyson

Winifred

Ash Harper

Savannah Steyn

H.E.R.

H.E.R.

Alex Crisp

Asjha Cooper

Jasmine

Kerry Coddett

Heather Nill

Olivia Scott Welch

Glendale (jung)

Isabella Russo

Akilah (jung)

Keeya King

Alana Beck (Sprache & Gesang)

Lady Macduff

Det. King

Shannon Adawn

Valerie Young

Alexis Louder

Barbie 'Brooklyn' Roberts (Sprache & Gesang)

Amber May

Bertie

Mary Lambert

Glendale

Megan Nicole Dong

Wickie Roy

Renée Elise Goldsberry

Jolene

Steph Jones

Khadijha Red

Margot Rivers

Bethany Antonia

Tracy

Kyanna Simone Simpson

Georgia

Adelaide Kane

Lucy

Lily Sullivan

Amber Appleton

Auli'i Cravalho

Ensign Beckett Mariner

Tawny Newsome

Hototo

Aoi Yuuki

Rose

Kim Adis

Esha

Ivannah-Mercedes

Stevie

Yootha Wong-Loi-Sing

Katie

Camila Mendes

Steph Jones

Khadijha Red

Kari

Megan Sousa

Christine Chartrand

Evelyn Giovine

Leah

Karla-Simone Spence

Agent Stone

Kate Messner

Peyton Kennedy

Megan

Nadja Alaya

Patrice Dumas

Petal

Georgina Sadler

Tomoka Kase

Ayane Sakura

Grace

Tiama Martina

Wren

Izuka Hoyle

Ali Finer

Javicia Leslie

Kiyoharu Suirenji

Eriko Matsui

Monique

Elvire Emanuelle

Brooke

Courtney Sauls

Emerald Goldenbraid / Em

Evany Rosen

Sarah

Kaylee Bryant

Dharma Coulder

Lindsley Register

Einhorn-Hündchen

Grey Griffin

Landis Barker

Kandyse McClure

Gudge

Keana Lyn

Josie McCoy

Ashleigh Murray

Hayley Woods

Ariel Mortman

Anna Worth

Abigail Lawrie

Eve Roberts

Liza Lapira

Angie Wagner

Greta Onieogou

Zoe Phillips

Jaylen Barron

Lexi Smith

Christina Robinson

Amanda Brotzman (2. Stimme)

Hannah Marks

Frankie Wong

Madison Hu

Jessika Harnesk

Karolina Furberg

Vilma

Yudith Castillo

Rosa

Lenora Crichlow

Rena Kariu

Haruka Tomatsu

Maya Kelder

Mina Sundwall

Lisa Brennan (19 Jahre)

Perla Haney-Jardine

Catty Noir

Missi Hale

Amanita

Freema Agyeman

Doreen Henderson

Natalie Paul

Becca

Alisha Boe

Shelby Watkins / Pinker Ranger

Camille Hyde

Tracey (2. Stimme)

Michaela Coel

Alex

Leah Lewis

Cali

Zoë Soul

Samantha (älter)

Lorelei Linklater

Romy (Gesang)

Chanelle Peloso

Brooke

Halston Sage

Heather

Samantha Logan

Judie

K.D. O'Hair

Proud Mary

Frieda Thiel

Yuzuki Kurebayashi

Ayane Sakura

Sara

Emily Brundige

Andrea (Gesang)

Lucia Vecchio

Katie Rice

Denisea Wilson

Deborah

Darrian Chavez

Rachel

Jamie Grace

Laura

Devon Werden

Gory Fangtell

Cindy Robinson

Sweetie Belle

Claire Corlett

Destiny / Princess

Tashiana Washington

Dr. Clementine Chasseur

Kandyse McClure

Kelly

Kelli Bland

Alex

Kathryn Newton

Christine

Lola Créton

Wendy Corduroy (1. Stimme)

Heidrun

Mae Whitman

Brie

Dara Sisterhen

Heidrun

Mae Whitman

Mayna

Kaili Thorne

Claire Naylor

Joanna Burnett

Riko Nirasaki

Marina Inoue

Leah

Shelby Young

Liza Everton

Lauren Ashley Carter

Jill

Mackenzie Rosman

Shauna

Stacey Asaro

Sweetie Belle (Sprache & Gesang)

Claire Corlett

Chloe Delgado

Ashley Holliday

Apple

Christina Broccolini

Miho

Mitsuki Tanimura

Melissa

Kehinde Fadipe

Ashley Juergens

India Eisley

Walanda Jenkins

Crystal Celeste Grant